CDs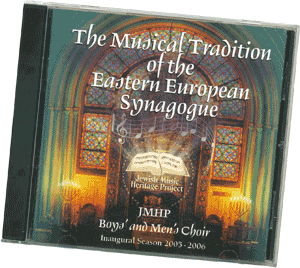 SELECTIONS ON THE CD
Click on underlined titles
to hear audio snippets
1. L'chu N'ran'no
2. V'shom'ru
3. Mogen Ovos
4. L'cho Adochem Hag'dulo
5. Uv'nucho Yomar
6. Kodosh
7. Sh'ma Yisroel
8. Yism'chu
9. Ma Noro - Ashre
10. V'al Y'de
11. Al Tiro
12. Eso Enai
13. Shir Hamaalos
14. B'rochos Al Haneros
15. Haneros Halolu
16. Mooz Tzur
17. Shoshanas Yaakov
18. Hal'lu Es Hashem Kol Goyim
The JMHP is pleased to announce the release of its first CD! This CD is part of an unprecedented historic effort to comprehensively document and record for posterity the great treasury of Eastern European synagogue music. It is one step in the long, arduous task of rescuing our once-glorious and centuries-old vast treasury of sacred music from otherwise near certain oblivion.
The JMHP Boys' and Men's choir, the only choir of its kind in the world today, came into existence in November 2005. The selections on this CD were made in March and June 2006, when the choir had been rehearsing for only a few short months. Most of the boys and some of the men began with little or no musical training or experience. Therefore, while the first sampler CD may not represent the pinnacle of what this music can sound like, it is surely an inspiring and auspicious beginning of the wondrous, dual process of remembrance and renewal that the JMHP is so uniquely and fervently dedicated to.
To purchase a copy of this CD ($12 plus shipping), call 410-602-2101 or write to info@jmhp.org with your contact information.
Future plans include producing an estimated 75 CDs, which contain all of the music from the five-volume anthology. It is expected that there will be five sets of CDs, one set of companion recordings for each volume.
This music should be performed by cantor soloists and a large choir of boys and men specially trained for an authentic reproduction of the sounds of this music. Over the multi-year life of the project, the music will be gradually recorded, using the latest audio and recording technologies.